Spring, summer, fall, or winter engagement photos?!
Engagement photos are an increasingly popular feature of wedding packages. In fact I include an engagement session with each wedding package for one important reason. It gives me a chance to get to know the couple a bit better and allows them to get a sense of how I work. (OK, and I absolutely love engagement photos!) But when is the best time to schedule your engagement session?
There are a number of factors which will effect your decision including when you're getting married, your photographer's availability, weather, and so on. Do you want to use your photos for save the date cards? Will you use them in the wedding itself? Is there somewhere in particular you'd like to have your engagement photos taken? Once you've answered these questions you'll be more prepared to schedule your engagement session.
Below I've outlined my thoughts on engagement sessions by season. I hope this gives you some guidance and helps you choose your date.
Spring
Most of my couples book their wedding package in spring, one full year before the wedding. If you're having a spring or summer wedding this is a great time to book your photographer, venue, and other wedding essentials. Not only are they more likely to be available but it gives you a chance to do a little reconnaissance to be sure they're exactly what you're looking for.
If you book your photographer in the spring book your engagement session immediately and before your photographer becomes swamped by the summer wedding season. I recommend that you do this for one reason: time! Your photographer will be able to get your photos back to you in plenty of time to have save the date cards made up and sent out to your loved ones. It also gives you a preview of the work your photographer will do at your wedding. If what you see from your photographer is not what you expected you'll have time to ask questions and rebook if necessary.
I loved photographing Karen and Chris's spring engagement session. Click here to check it out.
Summer
Summer. Fresh, warm, bright, and clean… Like spring, summer is a great time to book your engagement session. The weather is most likely to cooperate and your photos will easily suit the theme of your summer wedding. There is one problem with trying to schedule your engagement session for summer: it is wedding season. Between photographing weddings each weekend and editing you might have difficulty booking your photographer for a summer engagement session. And after the session it might take a little extra time for your photographer to return the final product to you. However this could be an advantage in that you'll quickly learn how well your photographer communicates under pressure.
Never be afraid to ask your photographer about how your photos are coming along. Their response will give you insight into how things will progress after your wedding.
Asha and Joel had their engagement photos taken in summer at the same location they would have their wedding! Click here to see them.
Fall
Fall is another wildly popular season for engagement photos. Your photographer will be freshly out of the hectic wedding season, and nothing beats the yellows, oranges, and reds of the changing leaves! Fall does have its disadvantages though, and you should be aware that sometimes Mother Nature has her own plans… When booking your engagement session for the fall be sure you give yourself extra time for raindate(s). It's common for fall engagement sessions to be rained out, even at the last minute, so have a few dates in mind just in case.
Take for example Karli and Scott's engagement session, which was rained out twice before we were finally able to make it happen.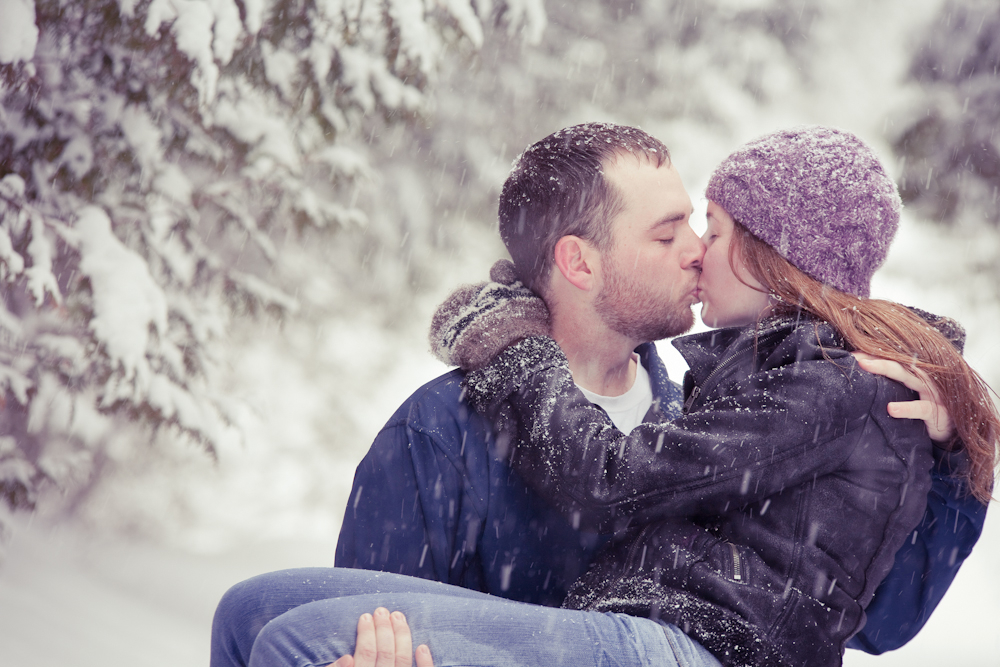 Winter
I love winter. Hot chocolate, big fuzzy blankets, and snuggling by the fire just scream romance. For those brave enough to challenge the snow, a winter canvas can make for the ideal setting for your engagement session. It is also likely that your photographer will be most available in the winter. However, if you live in Ontario (which I do), snow storms can bring an abrupt halt to your picture perfect engagement session. Be sure to watch the weather and plan accordingly. Have a back-up plan. If it looks like snow might spoil your session, pick another date.
Despite near snow-storm weather, I was able to find Tori and Ted's home. Click here to see their winter engagement session.
https://cdn.sophialemon.com/wp-content/uploads/2012/10/05104652/Clark-Earnest-282.jpg
667
1000
Sophia
https://cdn.sophialemon.com/wp-content/uploads/2016/08/03172555/logo-yellow.png
Sophia
2013-10-29 15:00:00
2018-04-27 11:12:57
Spring, summer, fall, or winter engagement photos?!